A.C.E. Bible Reading
Bible Reading reinforces reading skills and whets the child's appetite for God's Word. Each grade level on this series contains 12 PACEs that concentrate on reading the Bible and comprehending many of its principles. Bible Reading levels 1 – 4 are available in 3rd edition. Level 5 is available in 4th Edition. The first 3 units in Level 6 are also available in 4th Edition.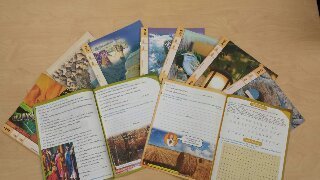 Availability of A.C.E. 4th Edition Bible Reading PACEs.
This table contains the 4th edition PACEs that are currently available to order from Southern Cross Educational Enterprises Ltd. Please check this information when ordering, as the PACEs transition to 4th edition you will need to order the corresponding 4th edition key.
Level
Product Code
Pace Description
Product Code
Key Description
5
4033049
4TH ED BIBLE READING 1049
4033249
4TH ED BIBLE READING KEY 1049-1051
4033050
4TH ED BIBLE READING 1050
4033051
4TH ED BIBLE READING 1051
4033052
4TH ED BIBLE READING 1052
4033252
4TH ED BIBLE READING KEY 1052-1054
4033053
4TH ED BIBLE READING 1053
4033054
4TH ED BIBLE READING 1054
4033055
4TH ED BIBLE READING 1055
4033255
4TH ED BIBLE READING KEY 1055-1057
4033056
4TH ED BIBLE READING 1056
4033057
4TH ED BIBLE READING 1057
4033058
4TH ED BIBLE READING 1058
4033258
4TH ED BIBLE READING KEY 1058-1060
4033059
4TH ED BIBLE READING 1059
4033060
4TH ED BIBLE READING 1060
6
4033061
4TH ED BIBLE READING 1061
4033261
4TH ED BIBLE READING KEY 1061-1063
4033062
4TH ED BIBLE READING 1062
4033063
4TH ED BIBLE READING 1063
4033064
4TH ED BIBLE READING 1064
4033264
4TH ED BIBLE READING KEY 1064-1066
4033065
4TH ED BIBLE READING 1065
4033066
4TH ED BIBLE READING 1066
4033067
4TH ED BIBLE READING 1067
4033267
4TH ED BIBLE READING KEY 1067-1069
4033068
4TH ED BIBLE READING 1068
4033069
4TH ED BIBLE READING 1069
4033070
4TH ED BIBLE READING 1070
4033270
4TH ED BIBLE READING KEY 1070-1072
4033071
4TH ED BIBLE READING 1071
4033072
4TH ED BIBLE READING 1072