A.C.E. Business Math
A broad review of general math sets the stage for a study that helps students apply learned skills to various practical situations in the home and business world. Students master concepts such as cheque book reconciliation, budget preparation, calculation of discounts, and insurance acquisition.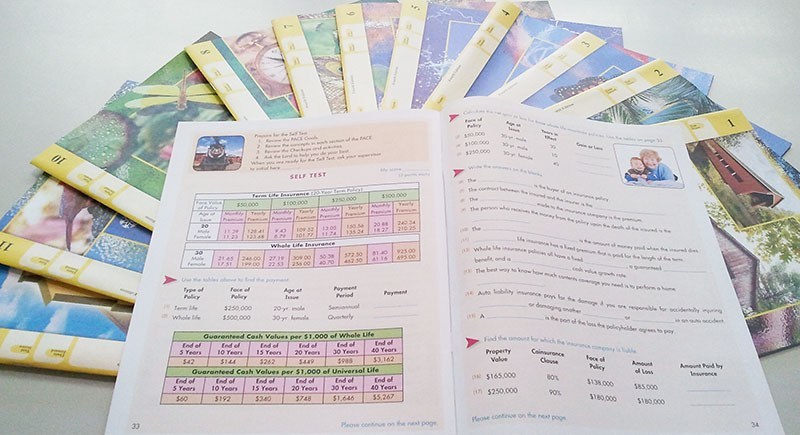 Availability of A.C.E. 4th Edition Business Math PACEs.
This table contains the 4th edition PACEs that are currently available to order from Southern Cross Educational Enterprises Ltd. Please check this information when ordering, as the PACEs transition to 4th edition you will need to order the corresponding 4th edition key.
Product Code
Pace Description
Product Code
Key Description
4082109
4TH ED BUSINESS MATH 1
4084109
4TH ED BUSINESS MATH KEY 1-3
4082110
4TH ED BUSINESS MATH 2
4082111
4TH ED BUSINESS MATH 3
4082112
4TH ED BUSINESS MATH 4
4084112
4TH ED BUSINESS MATH KEY 4-6
4082113
4TH ED BUSINESS MATH 5
4082114
4TH ED BUSINESS MATH 6
4082115
4TH ED BUSINESS MATH 7
4084115
4TH ED BUSINESS MATH KEY 7-9
4082116
4TH ED BUSINESS MATH 8
4082117
4TH ED BUSINESS MATH 9
4082118
4TH ED BUSINESS MATH 10
4084118
4TH ED BUSINESS MATH KEY 10-12
4082119
4TH ED BUSINESS MATH 11
4082120
4TH ED BUSINESS MATH 12